From Cars to Podcasts, Local Radio is A Top Choice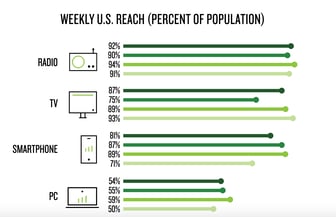 The old saying: "The more things change, the more they stay the same," certainly applies to radio. Despite ever-expanding media choices, local radio is consistently a top media choice, remaining one of the best ways to reach consumers. AM/FM radio reaches 92% of Americans reach week, more than TV, smartphones and desktop computers. Radio also outperforms the most popular online and app activities, delivering more monthly users than social media sites, search sites, e-commerce sites and video apps, according to Nielsen's Audio Today 2019 report.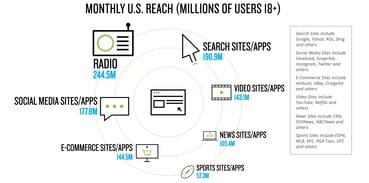 As stations compete with traditional and digital media for audiences and ad dollars, such expansive reach has never been more important. Local businesses are directing more money to digital advertising, but AM/FM radio offers reach and scale to build brand awareness and increase purchase intent. (Of course, radio stations can help with digital solutions as well.)
The bottom line is on the road, in the office and on new devices, consumers are sticking with radio and advertisers should too.
On the road and in the office, radio rules
Radio's role as king of the car is critical for the industry's staying power. And while there is a lot of buzz about advanced infotainment systems and voice controls expanding in-car media, radio is free and ubiquitous in all cars, no matter the year and model. That helps drive its position as the no. 1 in-car media. Nielsen reports that radio listening peaks between 6 a.m. and 7 a.m. on weekday mornings and then spikes again from 5:30 p.m. to 6:30 p.m., coinciding with morning and afternoon drives. While teenagers may not be commuting to the office like their parents, their radio usage follows a similar pattern, peaking before school around 6 a.m. and again afterwards, at about 3 p.m..
So where are audiences tuning in? Nielsen reports that about three-quarters of all radio listeners report using AM/FM radio during weekday drive time and the workday, creating prime opportunities for businesses to deliver their ads and persuade listeners to make purchase decisions. With consumers listening most often out of home, Nielsen notes ads can influence their decision to stop and shop.
New technology helps grow radio's audience
In a boon for radio, new technology is creating additional listening opportunities. Smart speakers like Amazon's Alexa and Google Home are becoming regular fixtures on kitchen counters and bedroom nightstands, providing an entree to get radio back into the home. About one-quarter of Americans own at least one smart speaker, according to Edison Research, and research has shown that listening to live radio is among their top uses.

Smart speaker owners represent an attractive demographic group for both radio stations and their business partners, with an average age of 41 years old and an average annual income of nearly $110,000. And radio endures with these consumers, Nielsen said. Despite their willingness to embrace the latest technological gadgets, 92% of smart speaker owners said they still listen to AM/FM radio. Their favorite formats include pop CHR, AC and country.
Podcasting boosts local radio
Similarly, the booming podcast industry is creating new opportunities for radio broadcasters and their ad partners. Federated Media stations, among others, are time-shifting on-air programming for digital, on-demand listening. Also, a growing number of stations are producing original podcasts highlighting their local expertise and DJs' interests. These efforts both generate added engagement with audiences, increase inventory and innovative ad possibilities.
And podcasting extends a radio station's connections with desirable consumers. According to Nielsen, the average podcast listener is 39 years old and has an average household income of $96,500. And, like smart speaker owners, they still tune into local radio, with 90% of podcast listeners reporting they listen to broadcast radio. Their favorite formats vary slightly, with pop CHR and AC as the top two, followed by news and talk.
***
Taken as a whole, the latest Nielsen data affirms that local radio continues its long tradition as the no. 1 reach media, while adapting to new platforms and programming trends.